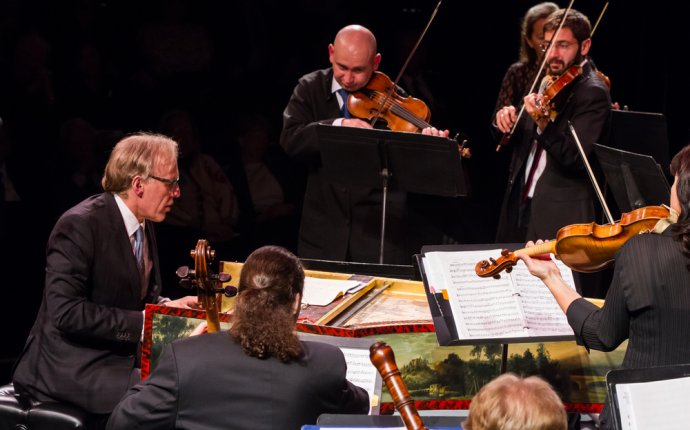 Musica angelica Baroque Orchestra
Musica Angelica Baroque Orchestra (= MABO) is led by Music Director Martin Haselböck, the internationally renowned organist, conductor, and composer. Regarded as Southern California's premier Baroque ensemble, Musica Angelica presents wide-ranging programs encompassing music from the early Baroque through the early Classical era.
MABO was co-founded in 1993 by Michael Eagan (passed away in 2004), widely considered one of the foremost lute players in the country, and gambist Mark Chatfield (passed away in 1998). The group performs regularly at. Since its inception in 1993, MABO has produced an annual subscription season of orchestral and chamber concerts in venues throughout Los Angeles County (Zipper Hall at Colburn School, as well as the Broad Stage at the Performing Arts Center at Santa Monica College), programming a mixture of known masterworks along with rarely heard gems the Baroque and Classical eras, and featuring many of the best Baroque musicians from across the country and Europe. Guest conductors have included Rinaldo Alessandrini, Giovanni Antonini, Harry Bicket, Paul Goodwin, and Jory Vinikour, among others.
n addition to established repertory, MABO has premiered over ten works in the new-music genre. The group's 2004 premiere of a 1737 oratorio by Nicola Porpora, Il Gedeone, received positive reviews. Most recently, in March 2009, Musica Angelica performed the North American premiere of Antonio Vivaldi's opera, Motezuma. Notable performances have included a collaboration with actor John Malkovich, in a one man show portraying Austrian serial killer Jack Unterweger.
MABO's first international tour, distinguished by sold-out performances and wide critical acclaim, took place in March 2007 in a joint venture with Martin Haselböck's acclaimed European orchestra, the Wiener Akademie of Vienna. The ensemble presented 13 performances of J.S. Bach's St. Matthew Passion (BWV 244) in Los Angeles, New York, Savannah (Savannah Music Festival), Mexico, Hungary, Austria, Spain, Italy and Germany.
Among critical acclaim from the media for MABO is a Los Angeles Times review which said, "Musica Angelica soars in a Baroque gem… a triumph… Haselböck's leadership was nuanced and inspiring." Musica Angelica was described as a "world class Baroque orchestra" by KUSC FM Classical Music Radio, as "L.A.'s premiere Baroque music ensemble" by Angeleno Magazine, and as "a serious and important early-music ensemble, the best of its kind in these parts" by esteemed music critic Alan Rich.
In 1998, MABO issued a well-received recording, Antonio Vivaldi's Concertos for Lute, Oboe, Violin and Strings. In 2007, MABO raised its profile with...
Source: www.bach-cantatas.com