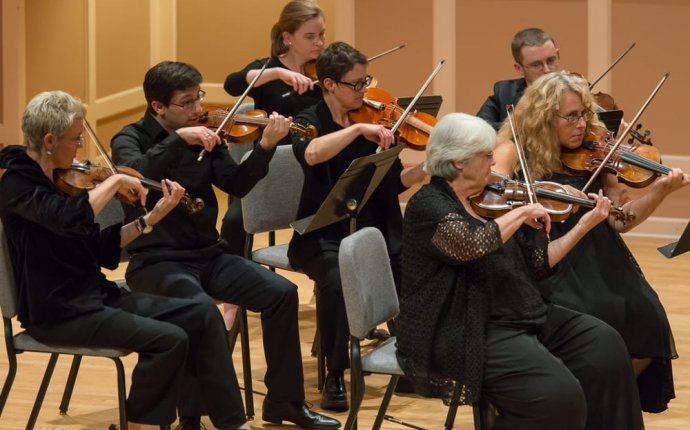 Lyra Baroque Orchestra
The fourth annual Twin Cities Early Music Festival presented its final programs this weekend — some 20 concerts in two weeks — making it just a little bit harder to maintain that the early-music movement, which has revolutionized the way we listen to classical music, never caught on in Minnesota and its two largest cities. It certainly seemed that way, let's say, 20 years ago.
Boston and the Bay Area of California, and possibly Chicago, remain the centers in this country of period-instrument performance along with all the "historically informed" stylistic practices that accompany such performances, whether they're played on old instruments — usually replicas — or modern ones.
The festival here suggests growing interest among musicians and audiences. The most impressive of the local groups — and the oldest — is the Lyra Baroque Orchestra, which played an engaging concert before a large, enthusiastic audience at Sundin Hall on Friday night. The concert was part of the festival but also served to kick off Lyra's 33rd season.
Lyra has gotten to a point where historical issues and technical details like keeping those unwieldy instruments in tune have been absorbed, leaving the focus where it's supposed to be — bringing the music to life.
Jacques Ogg, who has been the orchestra's artistic director since 2000, is presumably responsible for much of this growth. The ensemble certainly didn't play this well in earlier days, when it was known as the Lyra Concert. Ogg must be a disciplinarian, but he doesn't come across that way seated onstage at his harpsichord, giving an occasional downbeat. (Ogg is harpsichord professor at the Royal Conservatory of The Hague.)
Ogg comes across as droll and dapper. Were we in a time warp, he could be Maurice Chevalier's distant cousin. The playing Friday night reflected Ogg's joie de vivre. The fast movements of the two Bach cantatas on the program had a jaunty, unpressured bounce that suggested a joy in making music. Ogg favors considerable variety in dynamics, more than we usually hear in this repertoire, and he drew tangy, multihued colors from his string players, who displayed at all times a unified approach to phrasing and expression.
Oboist Stephen Bard was the excellent soloist in the cantatas, a frequent pairing: No. 56 ("Gladly will I bear the cross") and No. 82 ("I am satisfied"). Thomas Meglioranza, visiting artist at Bard College, brought a supple, suave lyric baritone and elegant phrasing to both works, his only trouble being those low Gs in the final aria of No. 82, which really call for a bass. It's Bach's fault. Handel's "Cara pianta" from his early serenata "Apollo e Dafne" was the graceful encore.
Bassoonist Joseph Jones was the deft soloist in the two Vivaldi concertos that completed the program. Though a few of Jones' low notes were drowned out in the first movement of the E minor concerto, his playing displayed a warm, singing tone. And when speed was needed, Jones proved he could easily break the four-minute mile without missing a note.
Source: www.startribune.com