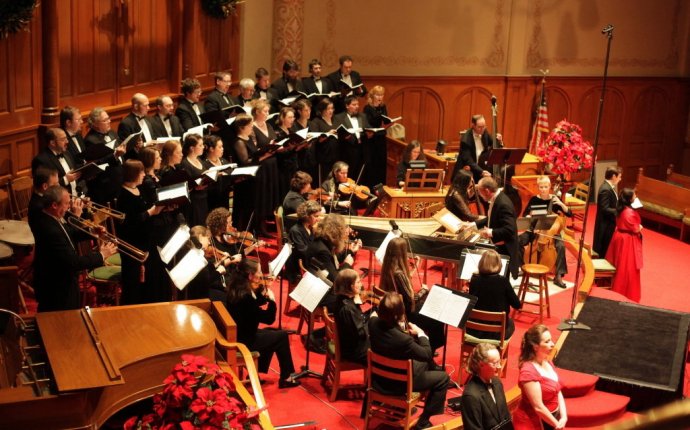 portland Baroque Orchestra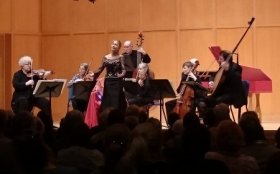 Ms. Huggett put together a very skilled chamber ensemble to tackle this music: basically a string quartet (two violins, viola, and cello) with an added violone (fretted double bass), harpsichord, and lute/theorbo. The sound mix was especially pleasant (and authentic) when cellist Joanna Blendulf played her viola da gamba, a fretted pre-cello, which complemented bassist Curtis Daily's violone and the soft strings of the violins and viola.
The programming and even the staging of the concert went beyond PBO's usual straight-ahead, one-piece-after-another-with-retuning-between-selections routine. In both the first and second halves of the concert, Ms. LeBlanc entered theatrically while the music was already playing. When not singing, she sat on a sort of throne amidst the players.
Her songs were interspersed among instrumental bits based on dance rhythms: airs, galliards, gavots, corants, and the like. In the first half, these were mostly from Matthew Locke's music from a production of Shakespeare's The Tempest in 1674. In the second half, they were exclusively from Henry Purcell's music for The Fairy-Queen, an opera based on the Bard's A Midsummer Night's Dream, first staged in 1692, only three years before Purcell's premature death at age 36.
The songs, the heart and soul of this concert, were uniformly and superbly executed by Ms. LeBlanc, a singer who has made herself an expert on English and French music of this period. Her clear and admirably controlled soprano danced easily among the high registers, arpeggios and ornaments of Purcell's music, and brilliantly masked her low notes in emotional expression. It's hard to imagine a more skilled practitioner of this period of music.
By the same token, the instrumentalists took advantage of every opportunity to make the music of Locke (1621-1677), Purcell, and the others — Robert Johnson (1583-1633), Pelham Humphrey (1647-1674), Pietro Reggio (1632-1685), and John Banister (1630-1679) — as vivacious as possible.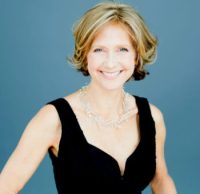 And yet… and yet.
There's a reason that English music of the 17th century has been less represented in CD and concert productions, compared to earlier and later music. With the exception of Purcell's, it's not very interesting. Locke's musings on The Tempest are, with the exception of a short piece called Curtain Tune, not memorable, whatever the composer's other virtues. Johnson, Humphrey, Reggio, and Banister are footnotes in histories of this period, which is generally considered a slack time between the death of William Byrd in 1623 and the heyday of Purcell in the late 1670s and thereafter.
To be fair, that period was a particularly difficult one for the arts in England, which included the Puritan revolution, the killing of King Charles I, and a waiting period until the revolution petered out and Charles's son could be recalled from banishment in France. It was only with Charles II's establishment of his royal 24 violins and reopening of English theaters that things began to pick up. Matthew Locke was the official court composer until his death in 1677, at which point Purcell was appointed — at age eighteen! — to the post.
Things weren't much better on the continent, where the Thirty Years' War turned vast stretches of Europe into barely populated moonscapes. But somehow, despite the carnage, musical activity went on there, especially in Germany, Italy, and France. After the death of Purcell, the English were playing catch-up, only partially mitigated by the glorious presence of Händel from 1710 until his death in 1759.
The songs of Locke, Purcell, et al. performed in this concert are not all best rendered by a high soprano like Ms. LeBlanc; many work better when performed by male countertenors, as the recorded literature attests. Still, Suzie LeBlanc did a perfectly fine job with the material, and the chamber ensemble played with precision and wit, particularly the Seattle theorbist John Lenti, whose huge instrument seemed especially resonant in his hands. And in the second half, once the Purcell music got underway, the concert went from strength to strength.
Recommended recordings
The Willow Song
• Suzie LeBlanc & Alexander Weimann, harpsichord (YouTube), 2016.
Robert Johnson & others
• Andreas Scholl, countertenor, and Concerto di viole (Harmonia Mundi HMC 901993), 2008.
Music from The Tempest by Locke, Humphrey, Reggio, Banister,
• Matthew Locke: Incidental Music for His Majesty's Sackbuts and Cornetts, Academy of Ancient Music (L'Oisueau-Lyre DSLO 507), 1977. (Monica Huggett is in the orchestra.)
The Fairy Queen
Source: www.orartswatch.org