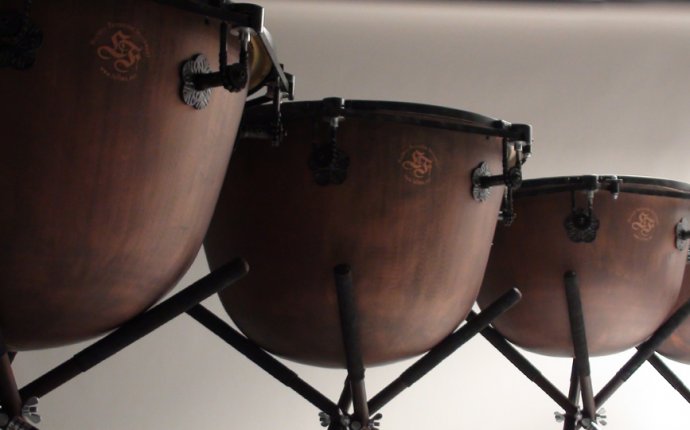 Baroque percussion
It isn't every day in the classical music world that a concert featuring Bach, Handel and Monteverdi calls for xylophone, two marimbas, three vibraphones, five Korean drums, toy piano, Beijing opera gongs, Sixxen bars and more.
But as Synergy artistic director Timothy Constable points out, "Anyone who's followed us for a while knows we're rogues and are always looking to try something new."
This time, the "something new" sees Australia's premier percussion group present "old works re-imagined" in their Masterpieces of Time concert, an eclectic program ranging from Bach to music by modern iconoclasts John Cage (whose centenary we celebrate in 2012) and György Ligeti, all in new arrangements by Constable and bandmate Bree van Reyk. They have even brought countertenor Tobias Cole into the fold to sing Monteverdi.
But can Bach withstand a beating from Synergy? Constable insists their new readings of revered works like the Chaconne and the cantata Ein Feste Burg ist Unser Gott are part of a long tradition stretching back to the Baroque era – in recent years we've even heard The Goldberg Variations on accordion. "Composers at that time regularly transcribed their own works as occasion demanded, " he explains. "Early and Baroque music has a particular energy which we love. We all trained as classical musicians and see ourselves as very much part of a continuum."
With such a rich canon of works to choose from, Constable has to listen out for qualities that make a piece of music ripe for re-arranging. Simply put: "The impulse towards doing a new version always starts with, 'That's awesome – I want to play that!'"
No point getting intimidated by masterpieces like Bach's Chaconne in D Minor, which he has recast for solo marimba. "The Six Sonatas and Partitas for violin solo are some of my favourite pieces in the world, " Constable enthuses.
"From a practical standpoint violin, viola and cello music works well on marimba – four strings, four sticks, similar compass. I tend to find that sweeter, major sonority music can sound a bit fairy-floss on marimba, so I gravitate towards darker music. In trying to find the essence of violin music, I try very, very hard to be a violinist, only surrendering to my instrument's limitations at the very end."
This diverse selection of transcribed Baroque and 20th-century classics is a world away from Synergy's recent concerts celebrating legendary percussion composers Steve Reich and Iannis Xenakis. But Constable is confident that "people who are less inclined towards the noisy end of the percussion spectrum will never find a better time to dive in. Even people who don't like classical music as a general rule will get something out of this program."
Synergy perform Masterpieces of Time: Bach to Cage at Sydney's City Recital Hall, Angel Place on Friday August 17. View event details here.
unique social networks
social networks privacy issues
social networks pictures
manage social networks
post to multiple social networks
local social networks
social networks journal ranking
how to post on multiple social networks at once
tb joshua talks about social networks
private social networks for families
adult social networks
effectiveness of advertising through social networks
social networks song
b2b social networks
post across social networks
alternative social networks 2014
post to all social media networks at once
the effects of social networks
best social networks for business
app to post to multiple social networks
new social networks 2021
why are social networks important
all social networks in one app iphone
social networks numbers
social networks uses
centrality in social networks conceptual clarification
social networks generate power through
finding people's social networks
top social networks
social networks free
leading social networks
which of the following statements holds true for electronic social networks?
social networks on the internet
social networks sociology definition
in terms of job leads and social networks, how are men's networks different from women's?
social media networks sites
scientific social networks
search social networks by email free
benefits of social networks
best new social networks
social support networks definition
nextscripts social networks auto-poster pro nulled
lesley milroy social networks
social networks map
list of social networks logos
use email to find social networks
singles social networks
advantages of effective social networks for career success include all of the following except
social networks privacy issues
social networks market share
definition of social networks
emerging social networks
the link prediction problem for social networks
check email social networks
research shows that social networks are key in maintaining romantic relationships.
while using social networks as part of the hiring process, employers can _____.
our social networks consist of just our closest friends and family.
private social media networks inc
online social networks why we disclose
what social networks am i on
social capital networks
social networks list
nextscripts: social networks auto-poster
social networks statistics 2015
search by email social networks
new social networks
emo social networks
orkut social networks
towards detecting anomalous user behavior in online social networks
online social networks and smoking cessation a scientific research agenda
social networks for seo
top social networks in uk
find usernames across social networks
niche social networks
marketing and social networks
social networks online
Source: www.limelightmagazine.com.au